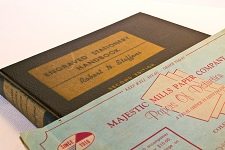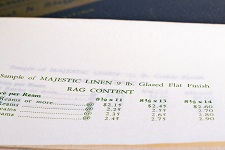 In 1918, George A. Carlton began to work for a school supply company named Union School Furnishing Company . The company was owned by WW Tutwiler and located in Chicago. WW passed away in 1923 so his son, Robert , took over the business. Union School's primary client was the Georgia Public School System. The South was hit earliest by the Great Depression so the school system was unable to pay its bills, and Union School company had to close its doors. Never ones to give up, George and Robert noted that even during the financial crisis, people were still purchasing paper. With that in mind, they founded Majestic Mills Paper Company in 1928, and before long, the business grew to include printing and engraving. George W. Carlton took over the business in 1952 and Majestic continued to expand, purchasing additional engraving and printing equipment. Lee Prichard was hired in 1980 as Vice President, and has worked at Majestic for the past 32 years. The company moved to its current West Chicago location in 2004. Lee and his wife, Sandy, purchased the company in November of 2010.
Building on 50 plus years of engraving and printing experience, Majestic Mills is making a new impression through improved resources, a strengthened team and dynamic business practices grounded in integrity and innovation. Majestic has a strong team with most employees having 20 or more years in the engraving industry. Since 2010, we have been most fortunate to add several highly experienced engraving industry professionals in the areas of sales, production, marketing and project management. This infusion of fresh energy and resources positions us to better serve your needs.
Our mission is to provide the highest quality brand image print products along with outstanding customer service. We know what our customers are facing in this age of economic uncertainty in a constantly changing communications environment. We understand tight budgets, fast timelines and the need for flexibility. We try to collaborate whenever and however we can. No problem is too large or too small to receive the best our team can deliver. And we are committed to being a good employer, an invested community member and an environmentally responsible business.